Chris Auffenberg Ford Lincoln of Washington has been proudly serving our community since 1987. Throughout the years, we have striven to give you, our customers the best service and the best deals we can.  We believe in doing things honestly and fairly because we know that we're all in this together;  we can't be successful without earning your, our neighbor's trust year after year.  It's that realization that has allowed us to be awarded the prestigious Ford and Lincoln President's Award  not just once but six times in 2010, 2012, 2013, 2015 for Ford and 2015 for Lincoln, and again for Ford in 2016. 
We pride ourselves in our commitment to community, and our community is big.   We love serving our hometown of Washington but also our extended communities of Union, Pacific, Saint Clair, Sullivan, Eureka, Warrenton, Hermann, Marthasville, and even Saint Louis and Saint Charles.  Hometown pride is knowing that our communities come to us for their Ford and Lincoln New, Certified, and Used vehicle needs;  whether it be for sales, our outstanding service department, our parts department,  Ford and Lincoln accessories,  our tire department, or our collision center and car rental businesses .  We've been serving Franklin, Warren, Jefferson, Saint Charles, and Saint Louis counties since the very beginning of our arrival.
Beyond our business commitment to our neighbors of dealing fairly and ethically, we also like to give back to our community because our staff lives here, too.   Each year, our Drive for School program donates over $20,000 to our local schools, numerous local charity golf events, sponsor local little league teams from year one, had our largest to date Toys for Tots event in the 2016 Christmas season, and are proud to be one of the largest sponsors of our Washington Town and County Fair.   In addition to our charitable events and sponsorships, we feel the most honored to provide service to our First Responder vehicles for our hometown.
We can't thank you enough for your years of support and patronage.
Your Auffenberg Family in Washington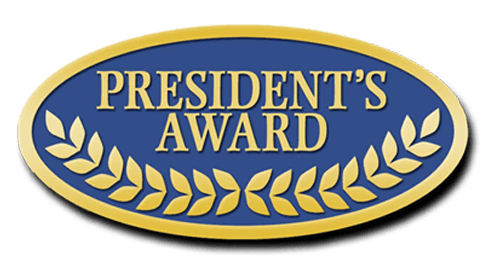 The President's Award
"In order to achieve the President's Award, dealers must exceed customer expectations every day in every department.  The pursuit of excellence requires passion, tenacity and hard work." Ford Lincoln Motor Company
Created in 1998, the President's Award recognizes Ford and Lincoln dealerships for excellence in providing outstanding customer service and overall satisfaction.  Eligibility is determined through customer survey responses regarding their sales and service customer satisfaction ratings.    The dealership must be proven to exceed this outstanding customer service and satisfaction in both their sales and service departments in order to be considered.
The President's award salutes the top performing Ford and Lincoln dealerships that embrace these standards and ideals, achieving the highest levels of customer satisfaction in automotive retailing.
This award is earned by fewer than 10% of all dealers nationwide.
We cannot thank you enough for your trust and support that you've given us.